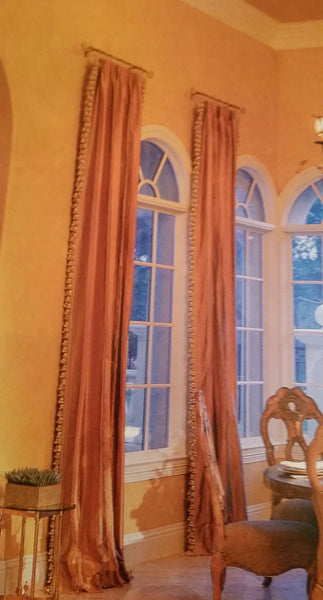 Extra Long Panels with Trim (Choose from Group A Fabrics) #6021BB
Regular price
$ 620.00
Sale price
$ 269.00
---
Extra Long Panels (up to 130" long) Pleated Tops 2 Widths, 54" Each before pleating; after pleated, they are about 25" wide.
 Look Through all the Group A Fabrics (362 in all), Choose one, and fill in the blanks. We'll choose the trim (on inside edges only) for you and ask for your approval.
HELP!!! I CAN ALSO HELP YOU CHOOSE FABRIC. I UNDERSTAND THAT IT IS A DAUNTING TASK TO TRY AND PUT FABRICS TOGETHER FROM A WEBSITE. TEXT ME WHAT YOU'RE LOOKING FOR OR GIVE ME A COLOR SCHEME AND I'LL PUT SOME FABRICS TOGETHER FOR YOU.
256 347 4089 DIANNE
Price includes Fabric, Lining, Trim, Labor, Tax, & Shipping/Delivery (Panels Come Pressed and Folded, Ready to Install)